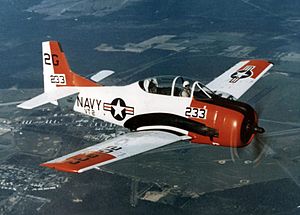 (Click on photo for original version)      
The North American T-28 Trojan began life in 1949 as the NA-159/XT-28.  There are nine variants that have been used by twenty-eight different countries.  It is a single engine trainer that was designed to replace the venerable T-6 Texan.  It was used by the USAF until the early 1960's, and by the Navy (Marine Corps/Coast Guard) into the early 1980's.  A T-28 was the first fixed wing attack aircraft lost in South Vietnam (a total of 23 were lost).
     While it is common knowledge that T-28's were used in combat in Vietnam, it is not generally known that the T-28 was the first fighter aircraft employed by the North Vietnamese Air Force.  This happened after a Laotian T-28 pilot defected to North Vietnam in 1963.  The North Vietnamese refurbished the airplane and put it into service as a fighter.
The T-28A was equipped with an 800 hp engine, but the later versions were upgraded to the 1,425 hp engine.  One other unique conversion deserves attention:  a civilian conversion, the T-28R-2 transformed the two-seater into a five seat cabin for general aviation use.
The last T-28 training flight took place at NAS Corpus Christi, Texas in early 1984.  The T-28 was replaced by the T-34C turboprop.
Powerplant:  1 x Wright R-1820-86 Cyclone radial engine, 1,425 hp
Cruise Speed:  230 mph
Maximum Speed:  343-346 mph
Range:  1,060 miles
Service Ceiling:  37,000-39,000 feet
First Flight:  24 September 1949
Number Produced:  1,948 from 1950-1957. T-28B (489) and T-28C (266) for the US Navy
Armament:  2 X .50 cal. machine guns, plus 1,800 lbs of bombs or rockets.
For more information refer to the following sites from which information was taken for this article:
 www.nationalmuseum.af.mil
 or
http://en.wikipedia.org/wiki/North_American_T-28_Trojan
Our T-28:
N70743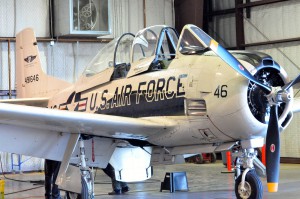 (Click on photos for larger version)
Manufacturer:  North American
Model:  T-28A
Year built:  1949
Construction Number:  49-1646
Engine Manufacturer and Model:  Wright R-1300-1B
Above information from:  
www.airport-data.com/aircraft/N70743.html