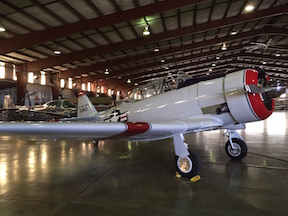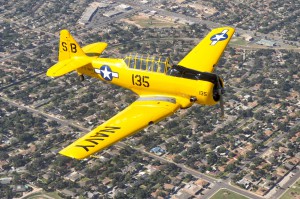 (Click on photos for larger version)
     The North American SNJ/T-6 Texan is an advanced trainer developed in 1935, which has been used by forces from sixty countries.  The U.S. Navy designated it the SNJ, and in the British Commonwealth countries it is known as the Harvard.  The distinctive Texan triangular rudder was added after several model designation changes. Approximately one-third of the total produced (5,035 of 15,495) were delivered to the U.S. Navy.
     In 1937 Mitsubushi purchased two original prototypes (NA-16) for demonstrators and for research into licensing for mass production.  However, they produced an aircraft that bore very little resemblance to the prototype.  Their aircraft(allied code name Oak)  were used in small numbers by the Imperial Japanese Navy from about 1942.  The Japanese Air Self Defense Force did operate Texans after World War II.
     While the T-6 was designed as an advanced trainer, it has seen it's share of combat.  It was used by U.S. forces in Korea and Vietnam as a forward air control aircraft; by the RAF in Kenya; France in Algeria; Portugal during the Portuguese Colonial War; Spain during the Ifni War; and by Pakistan in their 1971 war as a night ground support aircraft.
     The T-6 remains a popular warbird and has made appearances in numerous movies, in disguise, as a Mitsubishi Zero (Tora! Tora! Tora! and The Final Countdown) and as a Republic P-47 (A Bridge Too Far).
Powerplant:  Pratt & Whitney R-1340-AN-1 Wasp radial engine, 600 hp
Cruise Speed:  145 mph
Maximum Speed:  208 mph @ 5,000 feet
Range:  730 miles
Service Ceiling:  24,200 feet
First Flight: 1 April 1935
Number produced:  15,495
SNJ's Produced:  16 as SNJ-1; 61 as SNJ-2; 270 as SNJ-3; 2400 as SNJ-4; 1357 as SNJ-5; 931 as SNJ-6
For more information refer to the following site from which information was taken for this article:
http://en.wikipedia.org/wiki/North_American_T-6_Texan
Our SNJ's:
N101x
Manufacturer:  North American
Model:  SNJ-5
Year built:  ca. 1944
Construction Number:  88-9450
Engine Manufacturer and Model:  P&W R1340 SERIES
N3653G (member owned)
 (Click on photos for larger version)  
Manufacturer:  North American
Model:  SNJ-3
Year built:  1941
Construction Number:  3324
Engine Manufacturer and Model:  P&W R1340 SERIES
N889ER (member owned)
(This section still under construction)