(Click on photo for original version)
     The Beechcraft Model 18 ("Twin Beech") is the most modified U.S.-certified aircraft design, with over 200 FAA approved Supplemental Type Certificates on record.  This twin-engine tail-dragger, used by forty-three countries, can accommodate up to 11 people, and has been utilized in such varied activities as aerial spraying, dry ice cloud seeding, firefighting, medical transport, navigation training, skydiving and skywriting.
     One of the most recognizable features of the Twin Beech are the twin tail fins.  It is, however, sometimes mistaken for the larger Lockheed Electra (made famous by Amelia Earhart).  While smaller 330 hp or 350 hp engines were used in early models, the 450 hp Pratt & Whitney became the standard (one version actually had a 600 hp engine, but the added weight made it unacceptable).  One interesting factory option was the installation of  JATO bottles on each engine, which added about 200 hp per engine for 12 seconds.
     When Lockheed began focusing on larger aircraft during World War II, Beechcraft took over many of their military contracts for a smaller aircraft.  The production of the Model 18 continued for 33 years, the longest continuous production of a piston engine aircraft, and ended in 1970 with the last Model 18H going to Japan Airlines.  Various versions of the Model 18 flew in the USAF (C-45 until 1963), USN (SNB's until 1972) and the USA (C-45 until 1976) as navigation trainers, bombardier trainers and transport aircraft.
Powerplant:  2 x Pratt & Whitney R-985-AN-1 "Wasp Junior" radial engines, 450 hp each.
Cruise Speed:  184 mph
Maximum Speed:  225 mph
Range:  1,200 miles
Service Ceiling:  26,000 feet
First Flight:  15 January 1937
Number Produced:  More than 9,000 of 32 variants built
Produced:  1937-1970
Cost:  1952 Model D18S $78,050.00
For more information refer to the following site from which information was taken for this article:  http://en.wikipedia.org/wiki/Beechcraft_Model_18
Our Twin Beech:
N79AG "Spirit of West Texas"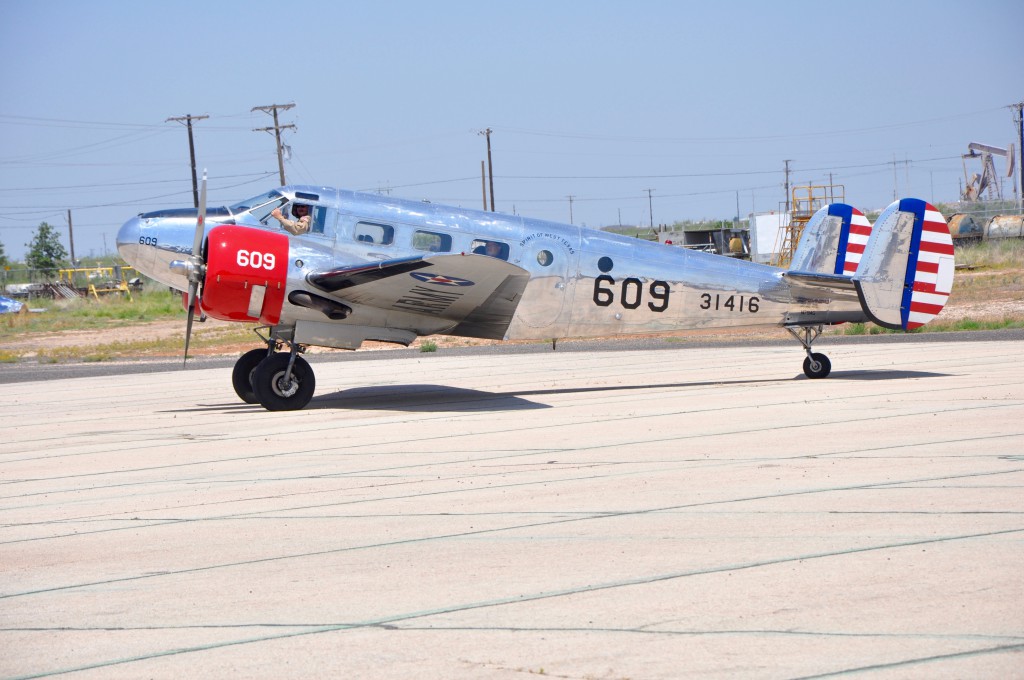 Manufacturer:  Beech
Model: D18S
Year built: 1952
Construction Number: A-806
Engine Manufacturer and Model: P&W R-985 Series
Above information from:  
www.airport-data.com/aircraft/N12718.html
 and  
www.airport-data-com/aircraft/N79AG.html
(This section still under construction)